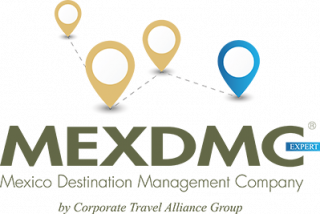 Destinations Served:
Los Cabos

Puerto Vallarta

Cancun/Riviara Maya

Mexico City
Planning and executing events in any destination can be complex, challenging and above all, stressful. But at MEXDMC we take the load off your shoulders and flawlessly bring your vision to life. We've been managing events in Mexico for 14 years and thanks to our creativity and professionalism, we've earned the trust of our clients who come back year after year.
 As a leader in destination management in Mexico, our DMC Division constantly innovates to serve you better – we always look for new activities and venues, create new programs, and improve our transportation solutions. You can count on our ever-expanding network of local connections and the support of our entire corporation as we all work towards your success. With MEXDMC, your event or incentive program will not only be a spectacular happening, it will create lifelong memories and bonds for your entire group.
Planning and executing events in any destination can be complex, challenging and above all, stressful. A DMC can manage the various elements of your event, from beginning to end, making the development of the event hassle-free and the finished product sensational. MEXDMC is here to make the process of designing your event seamless. Our relationships with local venues, vendors and restaurants combined with our competent team make MEXDMC your one stop to creating a successful event for your entire group.
Just a note to thank you and your outstanding team for making the Adleta program such a huge success. We couldn't have done it without you! The level of service we received from you, Ernesto, Eduardo and the others was exemplary. You are a true professional, and you make my job much easier as a result. You and your team could teach a course on how to exceed client expectations. I'll send a group your way anytime I can, and I know they will be well handled. Looking forward to working with you again - hopefully soon!
Born and raised in Mexico City, Sandra's exploring nature lead her into the travel business over 20 years ago. From Operational to Managing positions as part of her background, she discovered her passion for Sales within luxury properties – helping her to succeed in creating a strong professional network in five continents. With a creative mind and a solid team behind her, Sandra has been able to design unforgettable experiences for her clients.  And as a founder of MexDMC, she relies on her ability to maintain long-term relationships with her employees, her clients and her business partners. When Sandra isn't working or traveling, she enjoys outdoor living, long walks with her four-legged kids, and healthy dinners with her husband.