Destinations Served:
Austin
Dallas
Houston
San Antonio
CIRCA Destination Management
Circa Destination Management Company specializes in professional destination management services supporting conventions, corporate meetings, association conferences, non-profit organizations, and other group gatherings of all types. We produce custom events with precision and flair, orchestrate smooth logistical operations for large groups, capture and convey the authentic spirit of all the unique destinations in which we operate, and manage programs from their outset through completion. Throughout every program, we endeavor to make discovery, inspiration, excitement, engagement and entertainment part of our guests' journey. 
Our team knows that each group is unique with varied goals, so we collaborate, blueprint, and implement each element of our clients' vision into customized destination management services to reach those goals. We have experience working with groups from every major industry, and countless special interest groups. Regardless of your group's composition or what constitutes a meaningful experience, Circa DMC's tenured team of hospitality industry professionals has the ideas, market expertise, experience, and longtime vendor relationships to ensure a perfectly tailored event program and customized activities for any visiting group. 
They say everything is bigger in Texas, and they're right! It's a big place, with so much to see and do, and a heritage all its own. Texas is awash in Spanish colonial history, districts brimming with live music and art, country traditions and influences, and cities that truly offer endless possibilities. Let us take you to Texas' historic settings and trending hot spots, or to explore all its hidden gems and natural beauty; we know the scene and best of pop culture, and would love to help y'all immerse yourselves.
Circa DMC offers a wide range of tours and activities that explore both the history and new flavors that make San Antonio sizzle! San Antonio is now the seventh largest city in the United States, but has retained its sense of history and tradition throughout its urban expansion Circa DMC has decades of experience customizing destination services for San Antonio and Texas Hill Country area guests to take in its blend of picturesque landscapes, German culture, beloved attractions and active adventures.
We also have local teams and great insights to help guests explore the best of Texas' capitol Austin, and its largest metro areas Houston and Dallas–Ft. Worth. DFW is home to more than seven million residents and a diverse set of experiences perfect for any group of visitors, and America's fourth-largest city, Houston, is rich in world-class arts, dining shopping and nightlife. As the live music capitol of the world, Austin offers visitors an exciting mix of culture and art, entertainment, nightlife and outdoor activities, and Circa DMC helps visitors enjoy it all.
Our in-depth knowledge of local attractions, venues, hotels, transportation logistics, entertainment, and program management, combined with a passion for what we do, establishes the basis for the services we provide.  We also have extensive and collaborative relationships with event planners, specialty vendors, and local experts, in each of our destinations, and we're constantly nurturing established relationships and building new ones to ensure we are always providing the best value and available options.
"What an amazing show we had this year! And your team was right in the middle of it, helping us to successfully pull off multiple events and special arrangements. I want to thank you and the Circa team for everything you did for our convention, our ICWs and all the many players involved. You guys are top notch in customer service. I always felt like we were your most important client. Response times were fast, and your enthusiasm for our event and needs was always evident. We could tell you worked hard to understand the nuances of our group. You are also creative, solution-oriented, professional and fun. Working with you was a delightful experience. Thank you!"
Just had to take a moment this afternoon to pass along our since thanks to you all for our company holiday party experience. From the Carolers and Prosecco start to the Gran Chandelier and Big Band finish, the event looked, tasted and felt top-notch. Your team played a critical role in our guest experience – thanks for working as a team to create a first-class celebration. All today today, we have received notes of thanks from grateful employees for a wonderful night all around – shuttling, parking, décor, ice carving, specialty catering (we even got a BRAVO from the vegetarians!), music, lighting, band sound, ambiance, staff support…the list goes on and the thank you's keep coming. It was an honor for us to work with such talented professionals, and a labor of love to create something so memorable for our people.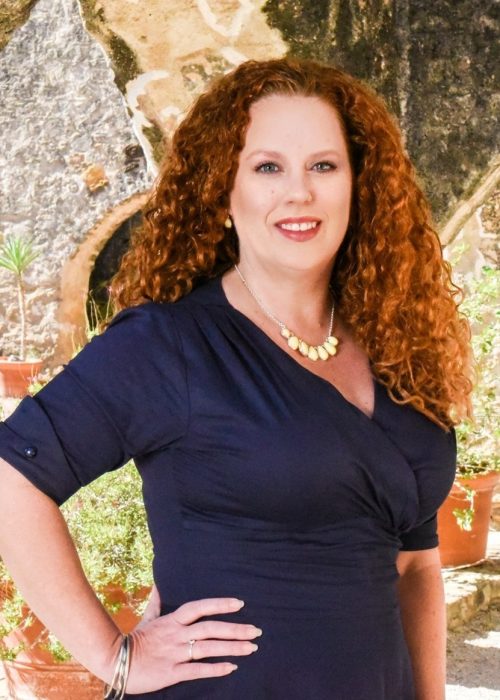 As a lifelong Texan, Amanda will always tell you "no one can do hospitality quite like the Lone Star State".  She has spent the last eight years in the DMC industry curating and executing memorable experiences, showcasing the best that Texas has to offer. Combined with her experience as an event/trade show manager and a background in hotel sales and operations, Amanda is a Jill of all trades in the event world.
Her favorite games as a child were always puzzles and she has taken that natural love of all things logistical to manage events of every size, both domestically and internationally. You can count on her to slay every detail of an experience, even the ones no one notices.